This is my response to the this week's prompt as a part of the Edublogs Club challenge: write a post that includes an image.
"Picture This" by mrkrndvs is licensed under CC BY-SA
Robert Schuetz posted about the power of images for blogging. He argued that,
Readers are more likely to view and remember blog posts that include visual content.
Schuetz provides a range of evidence to support this.
I like to include visuals in my posts. They involve a quote from the village, with a corresponding Lego graphic. I often use the pictures created by JustLego101. Although I used to use Google Drawings, more lately I have turned to Google Slides as I can then have a master template and it works on mobile. I have elaborated on this here.
Some might say this is branding, however I prefer to see it as just another form of expression. I don't think everyone goes to the same length for images, happy enough to post whatever comes up in Compfight or making quick quotes with Quozio. Here then are a collection of bloggers whose visual choices have inspired me over time:
Amy Burvall: You know it when you see them, Burvall's black and pink sketches made with Paper53 are unique. Whether it be a quote or an icon, she uses her distinct style to communicate her thinking.
Austin Kleon: Known for blackout poetry and graphical sketches, similar to Burvall Kleon has a carefree style (although I am sure it takes plenty of effort). He often summarises his thinking in a concise manner. Beyond his blog, Kleon's images usually find their way into his books and weekly newsletter.
Bryan Mathers: Like Kleon and Burvall, Mathers has a distinct style, often representing metaphors visually. Also using a range of apps, including Paper53, he captures ideas in a complex and concise manner. He is also the man behind artistic updates at both Reclaim Hosting and Hack Education.
Sylvia Duckworth: You would be hard pressed to find a teacher who hasn't been to a professional development session somewhere along the way that has incorporated one of Duckworth's sketchnotes. These are not only engaging, but always informative. Although there are sketchnotes still available via Flickr, the majority are now available through her book.
Silvia Rosenthal Tolisano: In response to Robert Schuetz' post, Rosenthal Tolisano described how she thinks through her blog posts by creating a visual. Her sketchnotes are a great example of how visuals can unite a range of ideas to support further elaborations.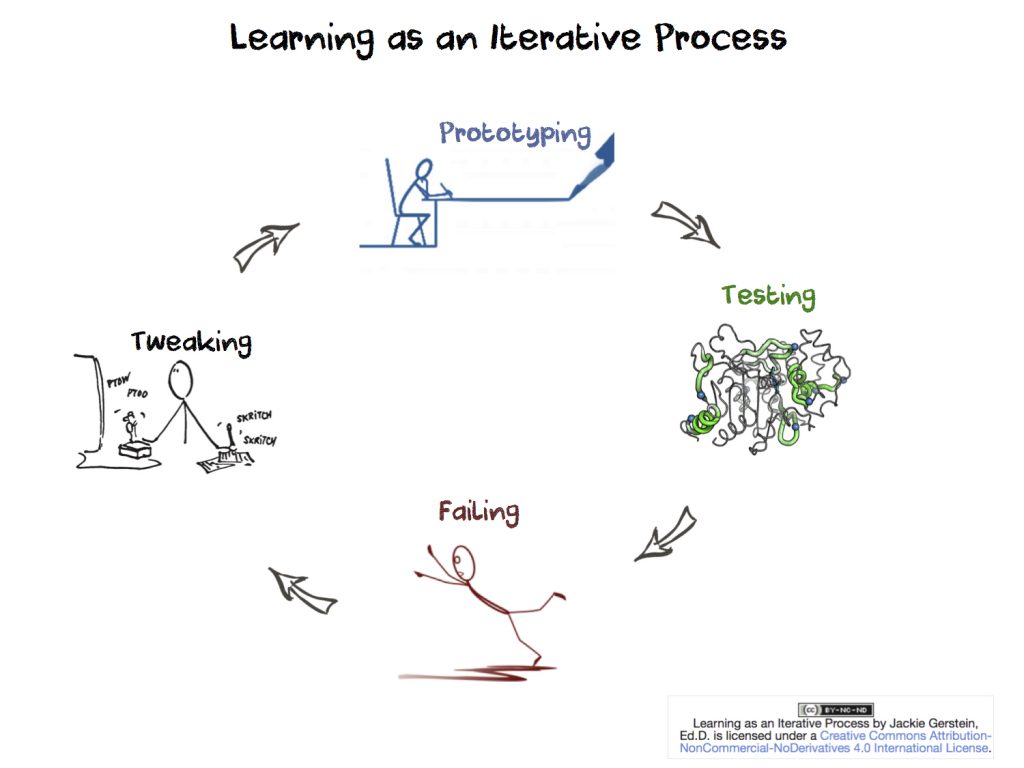 Jackie Gerstein: Similar to Tolisano, Gerstein often creates sketches that collect together all her thoughts on an idea. These are often incorporated into her presentations, many of which she shares on SlideShare.
Richard Wells: Wells has a knack of telling a whole story within an infographic. Although often linked to a post, they can very well act as provocations in themselves. He creates his images using Apple Keynote.
Bill Ferriter: With a mixture of sketches and digital creations, Ferriter has an eye and an ear for  poignant messages. Along with Burvall, Ferriter's images (and sharing through Flickr) were one of my original inspirations for creating graphics.
Alan Levine: It might seem counterintuitive to include Levine in this list as most of his images are simply photographs, but what stands out are that so many of the images he uses are his own. So often when I read his work I am amazed at the ability to find an image that matches. A great proponent of Creative Commons, because it is not just about digging in, but also sharing back.
---
So there are people whose choice of images has inspired me. What about you? Who are the visual bloggers that inspire you? As always, comments welcome.
---
If you enjoy what you read here, feel free to sign up for my monthly newsletter to catch up on all things learning, edtech and storytelling.