One of the challenges with the web can be managing content across multiple sites, one answer, create canonical links and share from there.
---
In a conversation on Twitter discussing the archiving images and canonical URLs, Amy Burvall explained that much of her work was simply stored on Instagram, which can be problematic. She asks whether I had any other suggestions:
Argh. Yeah that is the bane of my existence. All are on Instagram from past 2-3 years but that's unsearchable unless I've added a unique tag. If you have any suggestions I'd love them. We're yiu looking for a particular one I could send?

— amyburvall (@amyburvall) March 14, 2018
This had me reflecting on all the spaces (or 'cafes') where I have seen Amy's multimedia output,
I am sure there are more I may have missed, but it paints something of a picture. Added to this, not only does she frequent these social spaces, but often in different guieses as well.
One of the things that interests me about Amy's work is that there is not necessarily a central space. If anything, I would say that it is her WordPress.com blog, but there is not a space where all the different parts are collected together. Although she also has her main site – amyburvall.com – this is more of a landing page design to connect, rather than collect.
Here I am reminded of a recent piece by Cory Doctorow where he reflects on the choices associated with technology. He states:
You don't have to be "protech" or "anti-tech." Indeed, it's hard to imagine how someone could realistically be said to be "anti-tech" – your future is going to have more technology in it, so the question isn't, "Should we use technology?" but rather, "Which technology should we use?"
Douglas Rushkoff recently made the case against social media being used in schools. I agree with this and wonder we more schools do not create their own spaces. However, I also think that schools on the whole should do more to own their presence. What if they actually collected together their media story in one space. I think that Burvall faces that same conundrum.
---
There seems to be two schools of thought on this:
– PESOS: Publish Elsewhere, Syndicate (to your) Own Site
– POSSE: Publish (on your) Own Site, Syndicate Elsewhere
Dries Buytaert's graphic provides a useful breakdown of the differences.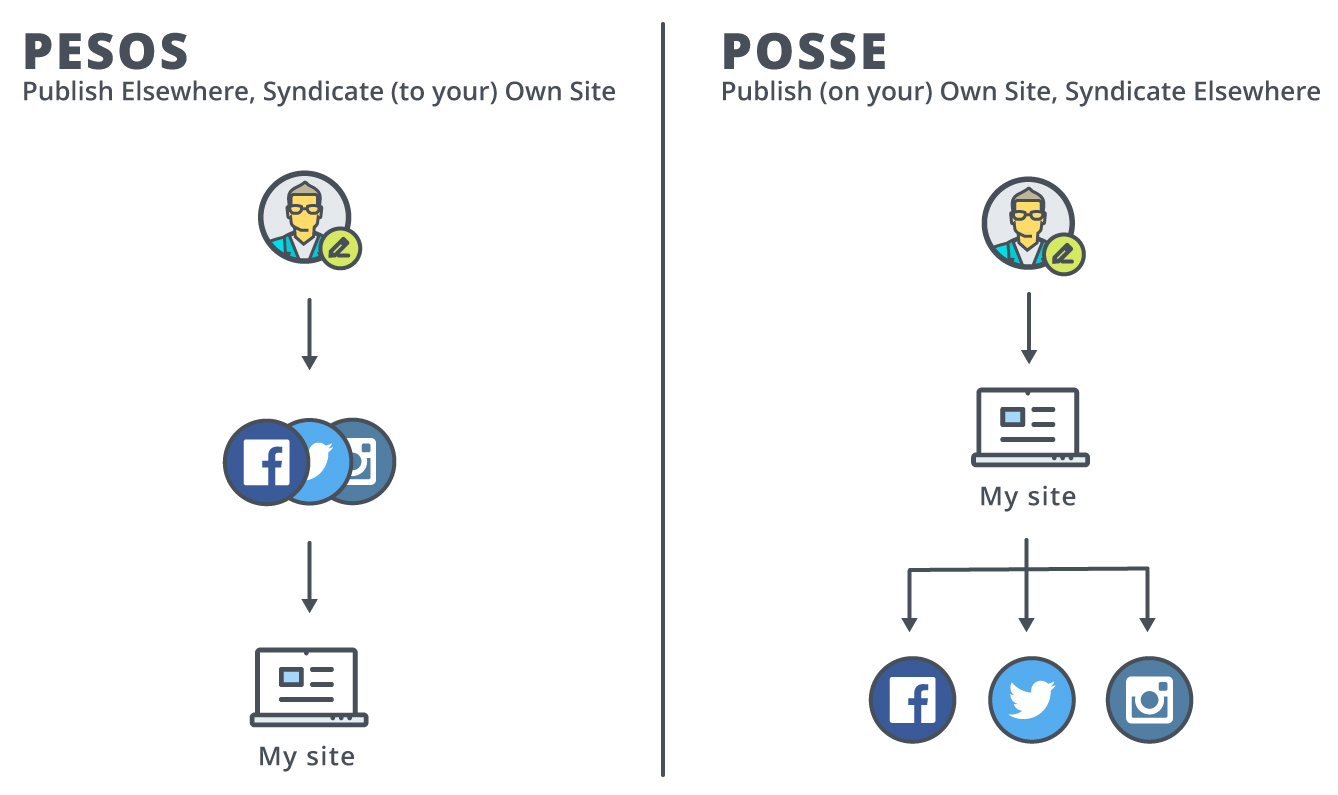 I remember when I started down the POSSE path, my focus was simply on my long form posts. I would use Jetpack to share links to Twitter and Google+. This approach however has its limits.
Firstly, Jetpack only provides a certain amount of social media sites provided. Secondly, it does not allow for much nuance in regards to content and how it is shared, particularly with media. The template is set within the code of plugin, with links sent out automatically. There are some ways to manipulate this, whether it be in the text box provided or by adding an excerpt, (an optional field in WordPress.) However, it is neither clear nor consistent.
Having spent some time with Edublogs/Global2, I learnt that Jetpack can be modified. I am not aware though how much you can adjust the code associated with sharing links nor anyone who has done this.
Another automated approach to sharing is through the use of a third-party platforms. The easiest and cheapest of these is IFTTT. It allows users to set up 'recipes', connecting various services together. These simply run in the background.
Although IFTTT provides more choice, this can still be limited. There are times when you have to work with the options available to rethink what is possible. I am also sceptical how IFTTT are making their money and whether they will pivot like Storify.
A similar third-party platform is Zapier. What is good about Zapier is that it really breaks down the various options clearly. The only catch with Zapier is the cost.
An alternative that does not rely on a third-party platform is SNAP (Social Network Auto-Poster). This WordPress.org plugin connects with a range of applications within your own site. Although the setup is not as simple as Jetpack or IFTTT (you are required to get your own API Keys), there are clear instructions provides to walk users through connecting each application.
Where Jetpack is fine for sharing links, it quickly becomes frustrating when trying to use your blog to share different forms of multimedia. SNAP provides an array of ingredients that can be used to create templates:
%TITLE% – Inserts the Title of the post
%URL% – Inserts the URL of the post
%SURL% – Inserts the shortened URL of your post
%IMG% – Inserts the featured image URL
%EXCERPT% – Inserts the excerpt of the post (processed)
%RAWEXCERPT% – Inserts the excerpt of the post (as typed)
%ANNOUNCE% – Inserts the text till the tag or first N words of the post
%FULLTEXT% – Inserts the processed body(text) of the post
%RAWTEXT% – Inserts the body(text) of the post as typed
%TAGS% – Inserts post tags
%CATS% – Inserts post categories
%HTAGS% – Inserts post tags as hashtags
%HCATS% – Inserts post categories as hashtags
%AUTHORNAME% – Inserts the author's name
%SITENAME% – Inserts the Blog/Site name
There is the option for setting a default for each application. While you can easily adjust what is shared with each post. This might include personalising the Twitter message or sharing with specific users.
The versatility of SNAP allows users to extend beyond sharing out links and actually managing an online presence Personally, I have started using SNAP to share bookmarks to Diigo and images to Flickr.
SNAP also provides options for sharing to Instagram and Google+, as well as attaching multiple social media accounts. However, both of these require additional API Libraries and payments. Chris Aldrich has also reported that it requires deactivating second factor authentication on Google to work properly, which is not ideal.
One of the reasons for these additional libraries is that Instagram and Google+ do not provide traditional write access. The other option for these sites is to post elsewhere and syndicate back (PESOS) using sites like OwnYourGram and plugins like Keyring Social Importer. I am yet to go down either of these paths. For those spaces I cannot automate, I manually post on other sites and add a link to the Syndication Links plugin.
---
There are often two variables that people get caught up with: cost of additional applications and the additional time spent sharing and curating. The problem is that we forget to consider the ethical implications. There are so many things to consider when using other spaces, that sometimes the best option is to have manage your presence from your own site.
In Burvall's case, there is also the additional consideration of going mobile. I too have that. A lot of my time is spent consuming and curating content while commuting. I use URLs as well as the browser interface to get my work done. It is not always ideal, but I manage.
This is in no way complete or the only way of approaching this problem. There are many others doing interesting things in this space, just go to IndieWeb.org for a start. I see this all as being a part of the push for a "demonstratably better web." So what about you? As always, comments welcome, webmentions too.
---
If you enjoy what you read here, feel free to sign up for my monthly newsletter to catch up on all things learning, edtech and storytelling.
Managing Content Through Canonical Links by Aaron Davis is licensed under a Creative Commons Attribution-ShareAlike 4.0 International License.