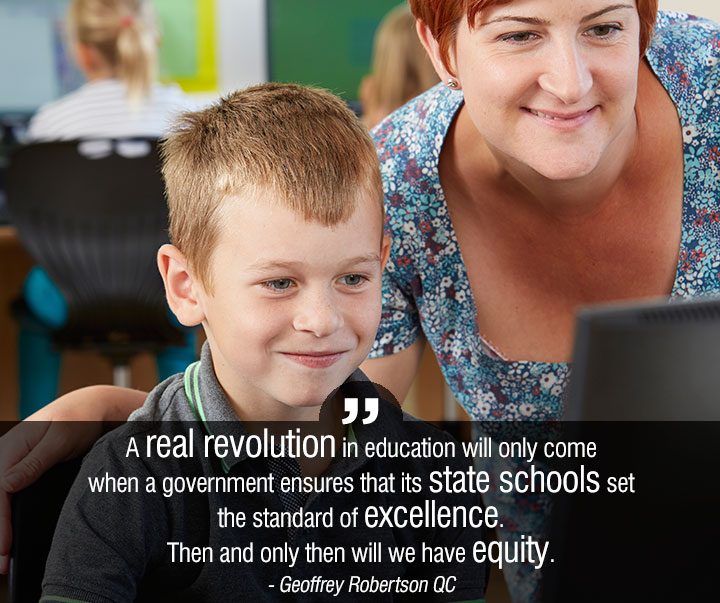 I was lucky enough to heara Gail Davidson speak today. She touched on what works in schools. Although we all have our own perspective and work in unique contexts, the ingredients it comes down to, according to Davidson, are: student learning, teaching excellence and supportive environment. For her, these elements are brought about by learning deeply, across subjects and with purpose. All of our resources support this, whether it be the technology in our hands, time allocated for meeting and planning or partnerships with parents and the community. The biggest challenge is not money and time, but fostering a culture of wholeheartedness. A part of this is the power of possible, doing what needs to be done in order to succeed.
This discussion of what works and building effective schools reminded me of a recent question posed about what it means to be the education state? Daniel Andrews made the promise leading up to the recent election to make Victoria the 'education state'. This even included placing the slogan on number plates. I feel like I have heard this sort of rhetoric before when Ted Ballieu promised to make Victorian teachers the best paid teachers in the country. As a part of his outline, he stated that he "won't rest until we rebuild schools, rescue TAFEs and make our state the education capital of the country once again." The question that remains though is what would it really take to make Victoria the education state. Here are some of my thoughts:
Properly Fund Education: The Gonski Review outlined some drastic needs for education, particularly around equity. The former Liberal government took away Education Maintenance Allowance to fund their contribution in regards to Gonski, with the belief that Gonski would fill that gap. However, what has happened is that schools have lost out on EMA and are yet to see any support via Gonski.
Schools for Growth Areas: According to an analysis from the Gratten Review, Victoria will need 550 new schools by 2031. In the latest budget, the government funded 10. If we continue at that rate for the next 15 years then we will build 150 schools. That is 400 short. Even if the Catholic and Independent sectors pick up some of the slack, as it seems the government hopes they will, this is still a big gap. The reality is that there are too many schools bursting at the seems, especially in growth corridors, with fields of portables, struggling to provide the appropriate environment for learning.
Maintaining Schools for the Future: Beyond new schools, there are too many in need of maintenance and revitalisation. Let alone any discussion of portables, many old buildings are inadequate and need of refurbishment. In addition to upkeep, there has been a stalemate with funds in regards to such things as cleaning and power. This has forced many schools to think more creatively and cut various programs.
Adequately Support Education: It is often suggested that class size has little impact. However, David Zyngier did a study that found smaller class sizes in the early years "can lift children's academic performance through to year 12 and beyond – especially for those from disadvantaged backgrounds." In addition to this, education support needs to include kindergarten. This means providing the appropriate funding of all hours to make it an imperative. Making Victoria the education state means supporting schools and students from day dot.
Provide Appropriate Support: I understand that every school context is unique, but school autonomy is a cop out. It creates a sense of competition, when what is really needed is culture of collaboration and connection. A part of this is the debacle that is the four regions. The Liberals handed schools responsibility for more menial tasks, but maintained the same funding structure. Yet the Labour solution is to provide more support whether regionally or in town, while cutting costs to already cash strapped schools. This is what Dale Pearce means when he talks about funding at the gate.
Vision for Education: One of the biggest disappointments has been the lack of vision from the government in recent years. I am happy to recognise there were many faults with the Ultranet. However, what it offered was a vision. I understand that the government released 'Unlocking the Potential', yet what have they really done to support it? On last count, there was only a handful of people in the Digital Learning department, this is a far cry from the halcyon days. I know those days have come and gone, however more needs to be done to empower schools with not only knowledge, but the confidence to take education forward.
So these are some of my thoughts. What about you? What do you think is needed to make Victoria the 'education state?' This is a conversation that needs to be had.
---
If you enjoy what you read here, feel free to sign up for my monthly newsletter to catch up on all things learning, edtech and storytelling.