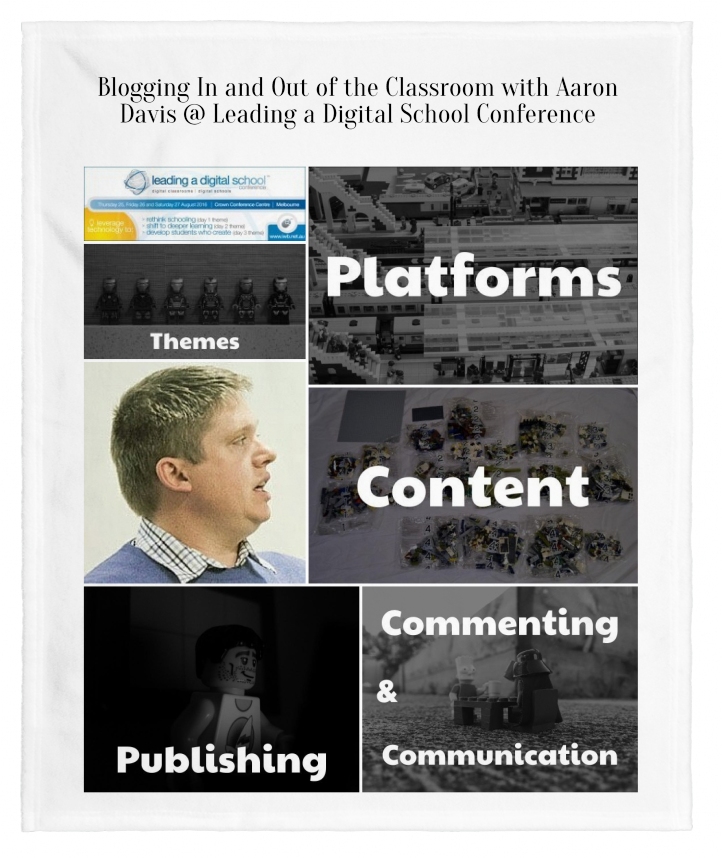 Session Description
It is often argued that learning needs to be redefined, transformed into something different. Going beyond what that change may be, a powerful tool that can help drive this are blogs. Originally designed as a means for logging information on the web, blogs have come to take many forms and purposes. This session is about harnessing the power and potential of blogging to develop learning inside and outside of the classroom. Whether you are confused about where to start or what possibilities blogs can offer, this session is for you.  Aaron will provide a range of practical tips and tricks associated with the differences between platforms, how to build a blog from scratch, as well as a range of examples and ideas of how blogs can be used in schools. The reality is, developing creative learners often depends on providing a place for them to shine and blogs is the perfect platform for this.
Here are my slides:

Here is a summary of some other links unpacking key concepts
The Many Faces of Blogging: Some break blogging down into tasks or unpacking the response. However, we often overlook the purpose and intent behind them.

A Guide to Blogging Platforms and their Niches: A summary of some of the different blogging services available, what they enable and where their biases lie. Included are an array of resources to support.

What Makes a Comment?: A question that does not get asked often enough is what it actually means to comment and what might it mean to bring the comment back?

A Guide to Following Blogs: A post that explains some different ways to follow a blog, including subscribing, via an RSS Reader or an automated recipe using a platform like IFTTT.

A Blog for All Seasons: Different blogging platforms enable different possibilities. Here is an account of some examples that I have created over time.
While here is a full list of  resources associated with blogging
While here is link to my blog roll for those wanting ideas and inspirations. Also a copy of my OPML for those wanting to explore Feedly.
---
If you enjoy what you read here, feel free to sign up for my monthly newsletter to catch up on all things learning, edtech and storytelling.
Blogging In and Out of the Classroom #digital16 by Aaron Davis is licensed under a Creative Commons Attribution-ShareAlike 4.0 International License.